In a dream on January 2, 2022, I am trudging through snow in an arctic landscape when I reach a white door on the side of a hill. I knock on the door, and it opens. I enter a small room, perhaps a boot room. I see another door and knock on it. A man lets me in. I find myself seated in a nicely appointed office, maybe the office of an ambassador or consular official. The man behind the desk is a Russian who gives me cordial greetings.
We have barely begun to converse when Colin Powell, in a civilian suit, enters the room and sits down on a chair to my left. I think I should leave as there will be high-level confidential discussions. I am escorted out of the room.
I interpret the cold landscape as being the Ninth Circle of Hell as depicted in Dante's
Inferno
. Powell is there as a warning to the Russians. As Secretary of State, he promoted lies as Secretary of State about weapons of mass destruction that led to our second war in Iraq. The Russians will be damned and sent to hell if they accept lies that will lead them to invade Ukraine. They invaded anyway on February 24.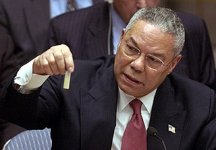 Colin Powell at the UN in 2003.